About Dr. Sinha M.A. Sayeed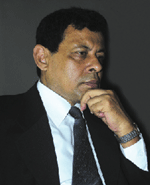 Netted BSS (Honors), MSS in Political Science with a degree of subsidiary in Sociology and Public Administration, LLB, LLM, PhD
[Titled 'global voice' for the book 'O United Nations']
Founder & Chairman, Leadership Studies Foundation, LSF
Speaker at Universities, public and private
Member, International Political Science Association (IPSA)
Life member, Bangladesh Red Crescent Society
Associated with a number of social, cultural and research organizations of national and international standard and altitude
Columnist, writer and contributor: National and International Dailies and Weeklies including The Herald, Weekly Times, Asian News, African Herald Express, Burma Times, Asia Monitor, Bogota Free Planet, Daily Star, Financial Express, Independent, New Nation, Daily Sun, Daily Observer, Green Watch Dhaka, Dhaka Courier, PROBE and so on.
Publications:
More than two hundred articles both in English and Bengali languages related to politics, laws, constitution, national, regional and international issues have been published in various national and international academic and non-academic journals, dailies and weeklies.
One of the noteworthy ventures was the publication of books, which as follows now stand four in number.
'For A President Who Can Taka An Initiative' published by Bangladesh Political Science Association. It focuses mainly on the politico-constitutional standing of the President of Bangladesh following the Constitution (Twelfth Amendment) Act of 1991.
Samoyer Kabita (Poems of the call of time) published by Bangladesh Writers' Foundation. Theme of the book rotates around the ongoing political landscapes in Bangladesh with an ardent urge to bring about reform in these sectors. It has widely been accepted, reviewed and applauded. It was also adjudged as one of the best book by Bangladesh Writers Foundation.
'Reflections on Non-Party, Neutral Care-Taker Government'—collections of articles on the topics-- published by Bangladesh Political Science Association. It pinpoints the various aspects and anomalies of the Constitution (Thirteenth Amendment) Act of 1996.
'O United Nations' published by Bangladesh Political Science Association. It focuses on the past, present and future of the United Nations. For the book, Bangladesh Philosophical Association and Bogota Free Planet, a leading Online Daily in South America, honored him with the title 'Global Voice' that has been echoed by International Association of the Historians of Asia, World Federation of the Associations of United Nations Associations, Yale Model United Nations XXXV, Yale University, International Political Science Association, Centre for Nepal and Asian Studies, Tribhuban University, Nepal and so forth.
The book has so far brought seven 'awards and recognitions' from home and abroad.
The extended form of this book is now available at www.sinha-ounitednations.com. Dorrance Publishing House, one of the largest and oldest Publishing Houses in USA, has meanwhile reviewed the book and expressed its desire to publish in the final form internationally and the matter is at the final stage of striking a contract accordingly.
Books coming out shortly-----------------------
Foreign policy: Bangladesh perspective
National consensus: Polemics or Reality: A case of Bangladesh
Politics: Time, Space and Dimension (A compilations of the 200 articles published so far)
Distinguished Speaker, outstandingly among others, at Civil Academies/Institutions:
Bangladesh Public Administration Training Centre, BAPATC, Ministry of Public Administration
National Academy for Planning and Development, NAPD, Ministry of Planning
Center for Environmental and Geographic Information Services, CEGIS,
Ministry of Water Resources.
National Institute of Mass Communication (NIMC), Ministry of Information
Scores of Leading private organizations, bodies and associations entailing universities as well
Police Academies/Institutions:
Police Staff College Bangladesh, PSCB, Ministry of Home Affairs
Bangladesh Police Academy (BPA), Sarda, Ministry of Home Affairs
Defense Academies/Institutions
Artillery Center & School, Bangladesh Army, Halishahor, Chittagong, Ministry of Defense
Naval Academy, Bangladesh Navy, Chittagong, Ministry of Defense
Areas of interests involve Ethics and morality, communications, good governance, leadership, superior-subordinate relations, formal and informal approaches, Intelligence Agencies, foreign policy, diplomacy, regional cooperation, international politics and relations, peace and conflicts and on any topics of social sciences in particular.
Regular participant in talk-shows on TV Channels including ATN Bangla, RTV, NTV, Channel-I, Independent Television, Masranga TV, Somoy TV and so on.
Former standing in print media in short:
Eastern News Agency, ENA (1978-1981)
Special correspondent, The New Nation, then leading Weekly in Bangladesh (1978-1982)
It is also mentionable that during that time, had opportunities to take exclusive interviews, inter alia, of Indian statesmen and leaders such as Mrs. Indira Gandhi in 1979, Charan Sing and Jagjiban Ram in 1982 and Joti Basi in 1985, US leader and statesman former President Jimmy Carter on October 02, 1986 for Bangladesh Television and Radio Bangladesh.
Former News reader (English): Radio Bangladesh both external and internal services (1983-1986)
Former President, Board of Editors of Voice and Vision, a Fortnightly Radio Magazine (1984-1986)
Other former standing:
Faculty member, Newcastle Law Academy (2006-2007)
Senior fellow, Centre for Governance Studies, DU (2007-2009)
Nationally awarded speaker and debater for five consecutive times wrapping 1978-1982 for which Dhaka University honored with 'Blazer', the highest recognition in this field, and till the date such rectitude has not been challenged by anybody.
A widely travelled person, he has visited more than fifty countries in various capacities and protocols entailing USA, USSR, UK, France, China, Canada, South Africa and Brazil.
Present non-political standing:
With more than twelve years of active, honest, transparent, corruption-free and colorful background in politics, starting from 1985 ton 1898, finally left politics in 1998 resigning from the office of the Secretary for Publicity & Publications of the central working committee of Jatio Party. Prior to that from 1986 to 1997 held the office of the Secretary for International Affairs.
Cell: 01711-692109
E-mail: sinha_sayeed611@yahoo.com
Blog: www.sinhaearthblog.blogspot.com
Web: www.sinha-ounitednations.com
www.sinha-lsf.org

A note on the publications of the book
O United Nations
Publication of the book O United Nations has been set under the following three heads:
a) Rehearsal Publication
meaning that a few copies of the book shall be published for the purpose of distributions sans price only to the target points at home and abroad;

b) Website Publication
meaning that the book shall be put on display in a complete form in a website titled 'www.sinha-ounitednations' so that any one may read the book sans price to have the full taste and message of the book, of course, without a privilege to download or print any copy; and

c) Market-oriented Publication
meaning that the broad-based market-oriented publication with a set price of the book shall be made in September 2020 in cooperation with an international publishing house.
We started a year-long march with our 'Rehearsal publication' on 01 October 2007 that ended on 23 October 2008. Then on 24 0ctober 2008 on the eve of the sixty three founding anniversary of the United Nations, we entered in a 'Website publication/display' of the book in a complete form having some new additions in the context of overall landscapes of the world and United Nations in particular.
Privacy Policy & Terms of Use